If you're a die hard vintage Cartier timepiece collector then you are aware of Osvaldo Pattrizi's seminal watch pictorial book focusing only on "non yellow" gold watches.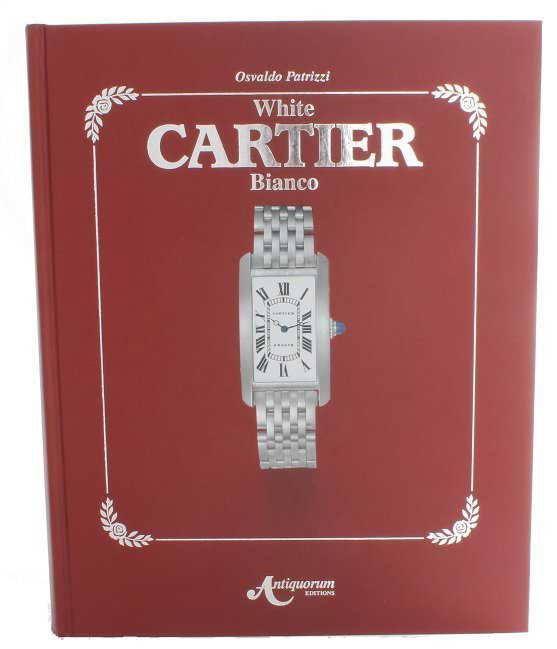 I have been fortunate to be in charge of selling quite a chunk featured in the book, I don't think most of them made it to public sale on my site but instead went directly to new and eager owners.
In the past years I had the Jumbo white gold Gondole Verticale in three different specimens (out of 6 publicly known) and I've had the disco volante with blue enamel last summer but lately I've come to handle some more unique and white metal unicorn like stuff!
As we know most of Cartier's timepieces were cased in yellow gold and only a fraction were offered in platinum, white gold, steel and osmior along with some other rarities in wood, turtle shell and bakelite. So to find a Tank in platinum or a Santos Dumont in anything other than yellow is a feat.
Large part of the watches featured in the book came from a single collection at the time, property of an Italian industrialist in Bologna and now are scattered around the world at large with many in collections in Florida, Italy, New York, London and Taiwan.
I will showcase some here below so that we have a record of those being real and in my hands along with some material for Cartier collectors to enjoy.
The latest watch I handled was this interesting "rectangulaire" featured on page 177 of the book and it belonged to singer Rudy Vallee. Cased in Osmior, a truly rare and rarefied metal, this watch checks all the boxes for a discerned collector: provenance, originality, condition, rarity and literature feature is just outstanding!.
Another incredible piece I sold is this Spider Rectangular from Cartier London in white gold, powered by JLC movement. The condition was just outstanding and I'm happy it went to a great home (where many other white only Cartier reside).
Furthermore is this Square Carree' in white gold, very cool watch indeed. A yellow gold version was offered by JLC at the time as well. This is truly an amazing find!
Lastly for this article (we can explore more watches I've sold from the book in the future) I'd like to share with you an extremely scarce and rare watch that is safely kept in my possession till the new rightful owner will come is this Santos Dumont in Black Bakelite (!) and platinum. This is really what makes collectors and Cartier historians salivate.. Patent Pending Santos Dumont in the most daring look it seems almost contemporary…
Bakelite case, 18k gold case back, platinum bezel and crown. European Watch and Clock movement.. Tang buckle in platinum….WOW
Hope you enjoyed and looking forward to sharing more amazing items of joy together.